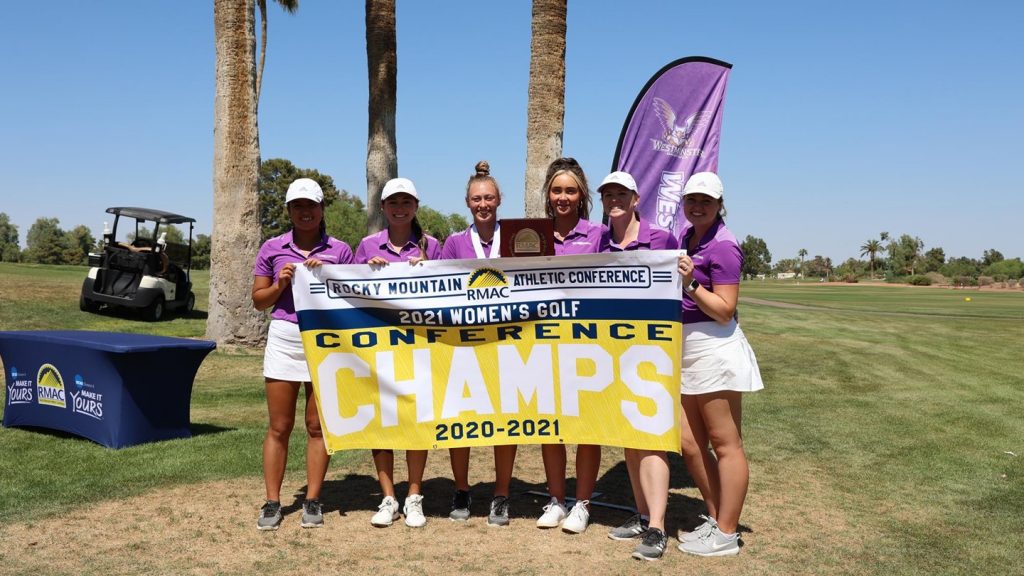 LITCHFIELD PARK, Ariz. – For the first time in program history, the Westminster Griffins are the winners of the RMAC Women's Golf Championship Tournament. The first-time title holders shot a field-best 927 (+75) after hitting 299 in the final round. The Griffins were stuck in third place for the first two days of competition before coming out and outperforming the other 11 programs down in Arizona.
UC-Colorado Springs (UCCS) was three strokes behind the leader as they shot an overall +78 and improved on their total stroke count as each day went on. They shot 301 on the final day after hitting 320 and 309 in the first and second rounds.
Colorado Mesa rounded out the Top Three thanks to an overall score of 933 (+81). The Mavericks were leading the field after Day Two, but were jumped by the Griffins and the Mountain Lions in the final stretch.
Regis (+88) and MSU Denver (+95) round out the remainder of the Top Five, respectively.
On the individual leaderboard, Emily Shukus of UCCS was crowned the RMAC Champion after ending the tournament shooting 221 (+8) and coming back from five places back on the leaderboard. She shot a field-best 67 in the last round.
CCU's Faith Kilgore remained in second place and ended the tournament with a score of 225 (+12). Behind the Cougar was Kate Keuss of Regis and Emily Donaldson of CCU shooting a 226 (+13) to tie for third place.
Finally rounding out the Top Five is Westminster's Whitney Banz who led the Griffins to the overall team tournament championship after she shot 227 (+14). Colorado Mesa's Hannah More also shot a 227 to tie with Banz for fifth place.
Individual Scoreboard
1)  Emily Shimkus, Colorado – CO Springs – 221 (+8)
2) Faith Kilgore. Colorado Christian – 225 (+12)
T3) Kate Keuss, Regis – 226 (+13)
T3) Emily Donaldson, Colorado Christian – 226 (+13)
T5) Hannah More, Colorado Mesa – 227 (+14)
T5) Whitney Banz, Westminster – 227 (+14)
7) Alex Naumovski, Regis – 228 (+15)
T8) Emma Tornoos, Fort Lewis – 231 (+18)
T8) Dakotah Kreil, Colorado – CO Springs – 231 (+18)
T8) Kika Dzoan, Metro State University – 231 (+18)
Team Scoreboard
1) Westminster – 927 (+75)
2) Colorado – CO Springs – 930 (+78)
3) Colorado Mesa – 933 (+81)
4) Regis – 940 (+88)
5) Metro State University – 947 (+95)
6) Colorado Christian – 948 (+96)
7) Colorado State-Pueblo – 961 (+109)
8) Fort Lewis – 976 (+124)
9) Chadron State – 981 (+129)
10) South Dakota School of Mines – 1021 (+169)
11) Adams State – 1052 (+200)
12) Black Hills State – 1057 (+205)