News
Check out what has been happening in Utah Golf.
UGA Hosts U.S. Amateur Four-Ball Amateur Championship Qualifier at Entrada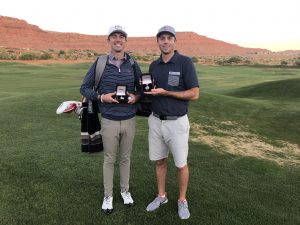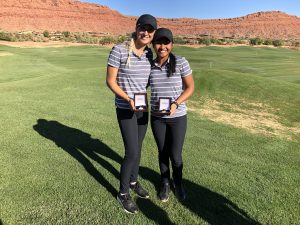 By Randy Dodson
A pair of BYU Women's golf sophomores and some familiar names from UGA men's events will represent Utah in the 2020 U.S. Amateur Four-Ball Championships.
BYU teammates Annick Haczkiewicz (L) and Allysha Mateo (2019 Mary Lou Baker Open champion) shot a (-5) 66 Monday at Entrada at Snow Canyon Country Club to claim the qualifying spot for the 2020 U.S. Women's Amateur Four-Ball Championship at Quail Creek Country Club, Naples, FL.
The duo carded six birdies on the day and counted just one bogey on the Johnny Miller signature design golf course.
"Knowing we will be playing in a USGA event is very special," said Mateo. "They know how to host great events with stiff competition on some great courses. We got off the tee well today and our ball-striking plays to both of our strengths.
A pair of junior golfers, Lilly DeNunzio and Ali Mulhall finished at even par 71 to grab the first alternate spot. Drew Nienhaus and Nicole Rallo T3 (+1) 72 are the second alternate team.
"We had a lot of fun out there and it felt like just another round playing with each other," said. Haczkiewicz.
In the men's qualifier, extra holes were needed to determine the two qualifying teams as Jeff Jolley/Tyson Lund, Andrew and John Sajevic and Ryan Brimley/David Jennings finished with scores of (-6) 65.
The three teams played the par 4 No. 10th and then the par 5 No.11 before the dust settled with the Sajevics (from Nebraska) and Brimley/Jennings securing their tickets to the 2020 USGA Four-Ball Championship at the Philadelphia Cricket Club (Wissahickon Course) in Philadelphia, PA.
"We both missed short birdies on the first playoff hole," said Jennings. "On the par 5 hole we decided to lay up after Jolley and Lund were in trouble. Par was good enough."
Jolley/Lund settled for the first alternate position while Denny Job/Ben Jorgensen T4 (-4) 67 were awarded the second alternate spot when Dan Horner/Darrin Overson, who also finished with a 67, didn't stick around for a playoff.
"The second alternate spot never gets in," explained Horner.
The U.S. Amateur Four-Ball Qualifier wraps up the 2019 Utah Golf Association tournament season as UGA Director of Rules and Competitions Easton Folster now sets his sights on tournament dates and locations for 2020 UGA championships and USGA qualifiers.
For complete results, please click here: https://www.uga.org/usga-qualifiers/