News
Check out what has been happening in Utah Golf.
Utah Golf Association Volunteer of the Year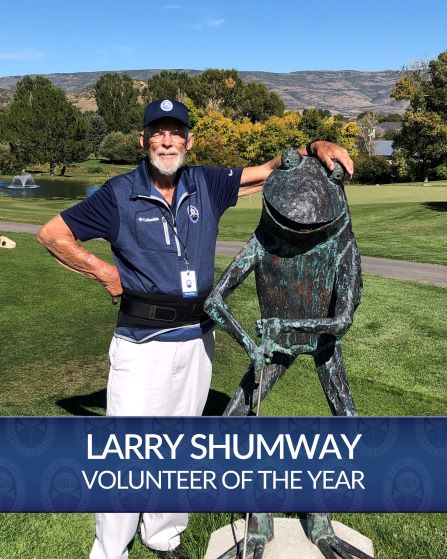 Staying Close to the Game
By Kurt Krahthorpe
Back problems have prevented Larry Shumway from playing golf in his 80s, but that has not kept him giving back to the game.
Shumway is the 2019 UGA Volunteer of the Year, a tribute to what UGA administrators cite as his willingness to arrive early and stay late in helping them conduct tournaments.
He's known for working multiple jobs at the golf course during the day's play. As one example, he was involved in player registration, served as a starter on the first tee and then manned the timing checkpoints at the Nos. 9 and 18 greens.
Shumway said that assignment hardly was overwhelming; all he had to do was sit in a cart between the adjacent greens. That observation reflects his attitude about a volunteer role that enables him to "stay close to the game."
Shumway, 87, spent 31 days at tournament sites in 2019. His only concession to age is not traveling to events in St. George or Wendover.
Shumway worked all over the world and around the United States as a mechanical engineer. The Texas native moved to Utah in 1984. He mostly has remained in the state ever since then and now lives in Sandy.