News
Check out what has been happening in Utah Golf.
Program brings veterans from around Utah to Logan for golf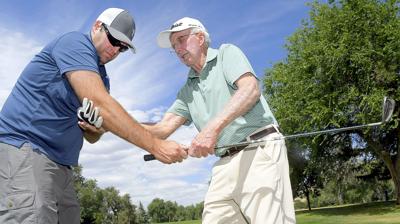 Dean Candland, right, gives a golf lesson to Andrew Helpingstine on Thursday during the Veterans on Course event at the Logan Country Club. The free golf event was for veterans and active-duty military.
Veterans from around the state hit the links for free Thursday at the Logan Golf and Country Club as part of a program aiming to foster connections among vets and assist some with recreational therapy.
About 60 participants of the Veterans On Course program took free golfing instruction from PGA professionals, competed in a four-man scramble over nine holes, and finished up with an awards ceremony, a guest speaker and a catered meal.
Megan Huntsman, program director for Veterans On Course, said the golfing is about much more than competition.
"By the time these guys are done playing nine holes of golf, if they've never met each other before, they're best friends by the end," Huntsman said.
Veterans On Course is a series of events by the Utah Golf Foundation, the charitable arm of the Utah Golf Association. The program started in 2016 and visited four courses. It's been successful, and this year it's expanded to 13 courses around the state.
The country club was decked out with 105 U.S. flags, thanks to Boy Scout E.J. Miller of Troop 356 in Logan. The golf pro approached him about setting up the flags as a project for his Eagle Scout award, and he had about a month to plan it out and round up other Scouts to hold flags for the golfers.
William Klinger, a recreational therapist at the Salt Lake City Veterans Administration office, joined three busloads of his clients and other veterans for the trip up to Logan. What's remarkable about the program, according to Klinger, is that the Utah Golf Foundation approached the VA's recreational therapists wanting to do an event helping veterans. A lot of people want to help vets by putting on events, Klinger said, but often they stick to their own ideas of what the event should be without taking the time to ask about and listen to what veterans want. But the Utah Golf Foundation listened.
"They listened to every item I said," Klinger said. "I couldn't believe it. It was like talking to Santa Claus when you're a little kid and you got everything on your list."
Klinger, affectionately known as "Dr. K" by his clients, helps veterans recover from substance abuse. Golf is particularly helpful as recreational therapy in these cases, Klinger said, because it requires mindfulness. Your attention has to be in the present moment, which can be a blessing to veterans with post-traumatic stress disorder.
"That's one of the challenges with PTSD, is going back in time to something you can't solve," Klinger said. "Or going into the future, being anxious about, well, could that happen again? Golf gives you the opportunity to be here in the here and now. Just get lost in the moment."
The VA's recreational therapy program gets veterans involved in a variety of activities, but Klinger focuses on creating environments that are safe, supportive and sober. Veterans On Course fits that bill. Golf doesn't require a safety speech at the beginning, the training from PGA pros is helpful and supportive, and there's no alcohol on the course or at the award ceremony dinners afterward.
"Which is great because everybody's at a different place in their recovery," Klinger said. "You can't get rid of alcohol or cocaine everywhere, but we want to be as safe as we can so somebody's not triggered."
Jason Jeppesen of Tremonton served in the Army for 10 years, including a 15-month tour in Iraq in 2006.
"It's a chance to get out and meet other like-minded individuals, other people that are like me," Jeppesen said. "It's a good way to get out and relax, be at one with nature and have fun. Not have to worry about all of life's troubles for three or four hours."
Bob Skinner of Eagle Mountain said he's been to a couple Veterans On Course tournaments now. Events like this mean a lot to him now that he's getting older.
"Most of these guys who actually saw war, or conflict, my heart definitely goes out to them," Skinner said. "Because I know most of them probably lost close friends. And the fact that everybody's here, and like a gentleman told me earlier, we're looking down at the grass, not up at it. So that's positive."
Veterans On Course events are usually capped at 60 participants and are open to men and women who are active or retired military. For more information about Veterans On Course or to register for one of the four remaining events in the season, visit utahgolffoundation.org/register.
CLICK HERE to view article on HJNews website.