News
Check out what has been happening in Utah Golf.
Trading Hoops for Putts
By Randy Dodson
Lauren Taylor isn't your typical incoming Utah Valley University Women's Golf freshman and that's just fine with Head Coach Sue Nyhus; and it's not just her Australian accent that makes her stand out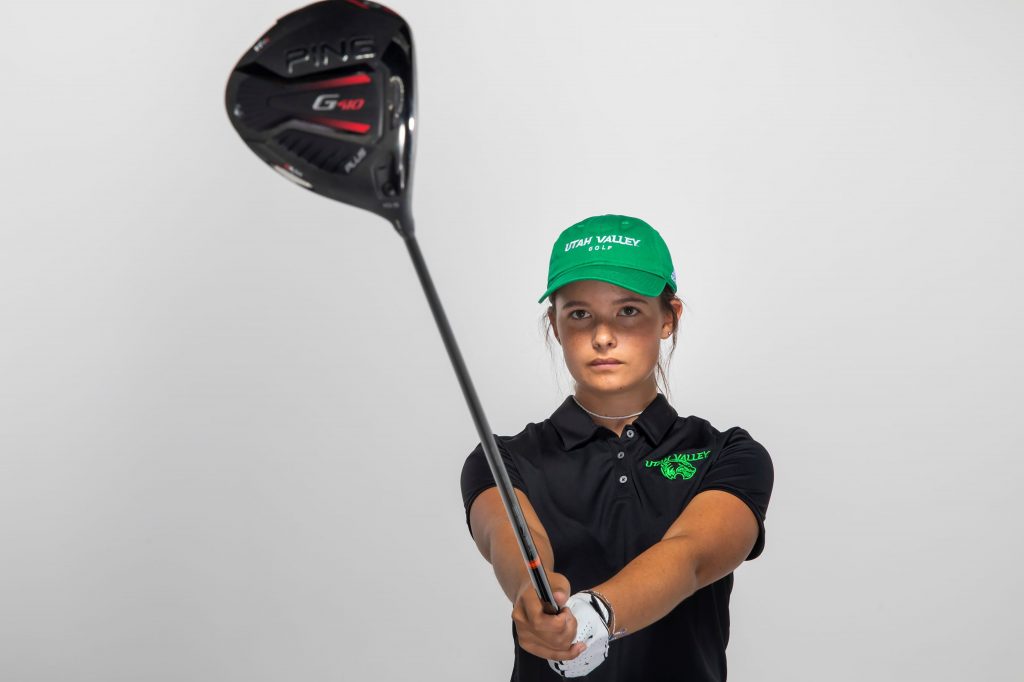 Lauren Taylor, incoming freshman, Utah Valley Women's Golf (Photo credit: UVU Marketing)
Coming from a Lone Peak High Girls Golf team full of talent, Taylor's first love of sports was basketball. As a tall pre-teen, now standing 5'9", why wouldn't it be? Lauren's father, Peter, an avid sportsman who played Australian-rules football, tennis, cricket, squash and golf, had no problem when at age 12 she traded playing hoops for making putts at The Vines Country Club, located in the Swan Valley region of Western Australia, once home to the European Tour's Heineken Classic, Johnnie Walker Classic and Lexus Cup.
A native of Perth, Australia, Taylor first fell in love with the social aspect of golf as she played in weekly competitions with golfers of all ages. After moving to Utah she became more competitive and dedicated to improving her swing and her scoring ability.
As a Lone Peak Knight, Taylor was named to Utah's High School All-State golf teams from 2016 to 2018. She was the 2016 region champion and finished in the top ten individually in the 6A High School Girls State Championship for three consecutive years, including a second place finish in 2018, one stroke behind Tess Blair, with rounds of 69-66 at Meadow Brook golf course.
Of Taylor, recently retired Knight's Coach Gina Higbee said, "She is a very positive person and a great leader. She likes to know when she really needs to grind because her team needs her and she always comes through. Her positive attitude makes everybody on the team happy and she loves positive surroundings and positive feedback. I absolutely adore her, not just as one of my past teammates, but as a friend."
The Knights have won three state titles in four years with Taylor playing a role in all of them.
"Lauren is a strong, athletic golfer who is eager to learn," said Nyhus. "Her ball striking has been improving each year. She brings a bright countenance each day. Lauren also benefited greatly from the high level of competition on her Lone Peak team. She is a great student as well, which fits perfectly with our "Student-Athlete" model. All of these factors and a few more make Lauren Taylor a perfect fit for our Wolverine team."
Lauren's path to UVU has followed the junior golf roadmap just as Utah's allied golf associations have created it. She first teed it up with the U.S. Kids program then progressed to the Utah Section PGA's junior series, followed by the PGA's Major series and Utah Junior Golf Association tours while playing high school golf. She also now competes in Utah Golf Association women's championships.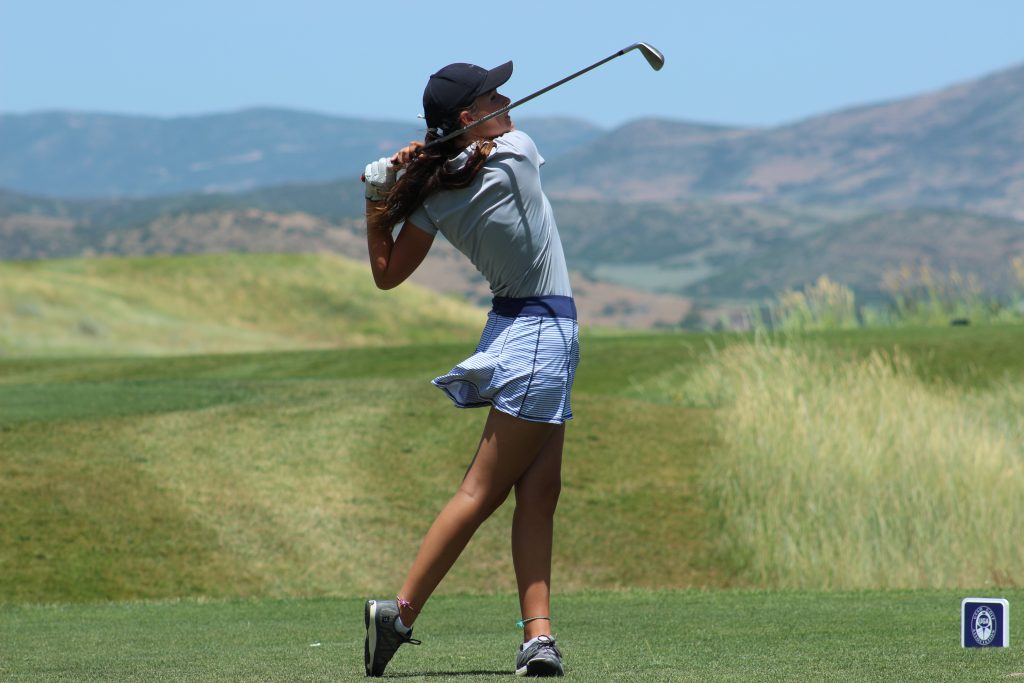 Lauren Taylor finished in 7th place at the Utah Women's Stroke Play Championship at Soldier Hollow Golf Course this summer. (Photo Credit: Fairways Media/Randy Dodson)
When interviewed after the UGA's Utah Women's Stroke Play Championship at Soldier Hollow Golf Course Taylor said, "I loved playing high school golf. I was lucky enough that I had an awesome team and played pretty well, especially my junior year. That was probably my best year. Last season Berlin Long came in and me and Abbey Porter were seniors so I felt like we had three really solid players. It was a great team with awesome gals to play with."
Fairways magazine writer Kurt Kragthorpe wrote in his 6A Championship feature, "Beyond the team's talent, Coach Gina Higbee credited Lone Peak's camaraderie for its strong performance." That sentiment is shared by Taylor and she sees Higbee as the instigator saying that she cares about each girl and the team more than any other coach she's seen, calling her coach a "fireball."
UVU's Sue Nyhus fits that mold according to Taylor. While she had thoughts of leaving the state to play college golf, it was Nyhus that made the difference in her final decision to become a Wolverine.
"She was the one coach that made me feel I was wanted on the team as much as I wanted to be there. I grew up with the whole team sport thing and in some ways playing golf you miss out on the that aspect. I think that's why I really enjoyed playing high school golf and I think I'm really going to enjoy playing college golf, knowing that I'm playing for something more than myself."
And that's just what Coach Nyhus wants to hear.