News
Check out what has been happening in Utah Golf.
Jeannie Goddard Cup – 2019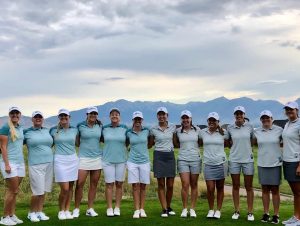 By: Abii Johnson
The annual Jeannie Goddard Cup was hosted this year by TalonsCove Golf Course in Saratoga Springs. The field consisted of two teams of six women, one professional and one amateur. This is the first year that the professionals have fielded a women's team; in previous years, the amateurs have fielded two teams that competed against each other.
Similar to the Ryder Cup, the event featured morning foursome matches and afternoon four-ball and singles matches. "This is just a really fun event", says Tess Blair, former Utah Women's State Amateur Champions, "It's unlike anything I think in Utah and it's really fun to mix it up and play alternate shot and have a four-ball event here". From the start, the amateur women dominated the field, with a clean sweep in morning foursome matches. The amateur women came out on top again in the afternoon, winning two out of three four-ball matches and 5 out of 6 singles matches.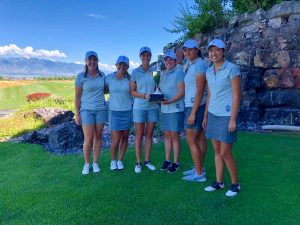 With the course closed to public play for the duration of the matches, players enjoyed a quiet and focused morning of competition without distraction. Says Laura Gerner about the tournament atmosphere, "I thought it was really cool that they closed [the course] for everything, because I don't think I've ever really gotten to experience that". Tess Blair also expressed her excitement with the course and it's conditions, saying "It was super nice for TalonsCove to let us come out and let us take their course for the whole day. It's always a fun course and it's in great condition".
Kerstin Fotu, the reigning Women's State Amateur Champion, described the conditions as "[The course] was good. The greens were a little different… they looked fast but weren't that fast. It was definitely challenging, and you just had to stay in play". When asked, all other players had nothing but good things to say about the course, and the playing conditions.
The added competition of the professional women's team proved to be well-received, with players enjoying the opportunity to play against a different field of ladies than normal and having some tough but fun competition. "It was really fun… to get to know other players and play with them, and kind of play different formats from just regular stroke play". This was also the first year that the Goddard Cup was held on the same day and at the same location as the Governor's Cup, which the women also enjoyed. Gerner mentioned that she thought "it was really fun to get to feel like it was such a big event because we got to do it with the Governor's Cup".
The final score for the event was 10-2, with the amateurs emerging victorious. Full tournament results can be found at https://www.golfgenius.com/pages/2141152