News
Check out what has been happening in Utah Golf.
Six players with Utah ties face uphill climb heading into U.S. Amateur Stroke Play Second Round at Pinehurst Resort and Country Club
By Garrett Johnston for Fairways Media
Pinehurst, NC – Utah is well represented this year at Pinehurst for the U.S. Amateur with six players having Utah ties in the field of 312.
Leading the charge is last month's newly crowned U.S. Junior Amateur winner Preston Summerhays.
The 16 year old sees Pinehurst No. 2, No. 4 is the other course this week for stroke play, as being a daunting test for this field.
"There's a reason why they've had so many U.S. Opens here the last few years," Summerhays said. "The greens are really firm; they are super elevated with a lot of runoffs.
"This course is super amazing."
High praise from the young player who until Saturday had never played No. 2.
What kind of score would be good for this week at No. 2?
"Even par and I'd be really happy, but honestly one, two, three over is not bad either," Summerhays said. "The course is just playing that tough."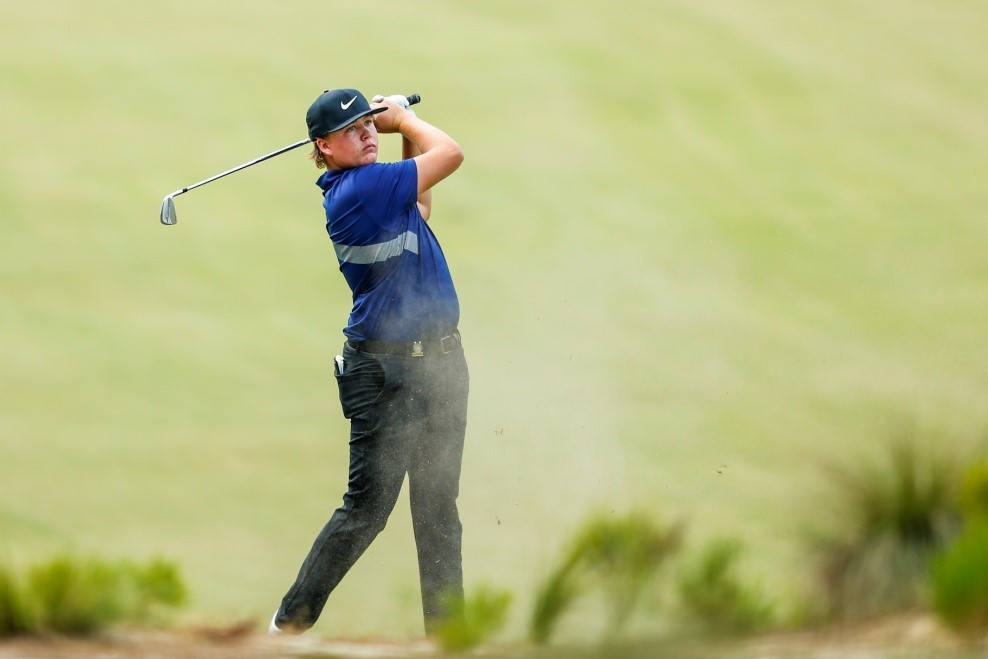 Two-time Utah State Amateur champion Preston Summerhays finished 4-over par today on the No.2 course at Pinehurst Resort and Country Club. Photo Copyright: USGA/Michael Reaves
BYU upcoming senior Peter Kuest, playing in his second U.S. Amateur, also feels No. 2 will be a daunting test this week.
"Anything around even par is going to be a great score especially with the greens firm and fast," Kuest said. "If you get on the wrong side of these pins you could be playing ping pong pretty quickly.
"You've got to be careful with where you leave the ball and try to give yourself as many uphill looks as you can while trying to hit as many greens as possible."
This is Kuest's second visit to Pinehurst after he teamed with fellow BYU senior and teammate Spencer Dunaway for the U.S. Amateur Four Ball here three years ago.
For incoming BYU freshman Cole Ponich of Farmington this is already his ninth competition on the Pinehurst courses.
He played in the U.S. Kids World Championship seven times, starting at age seven and finished second in the 2017 North and South Junior Championship.
"I'm pretty used to the grass around the greens because it's pretty different. I feel like I know now the spots you want to miss it, and these greens are as tough as any in the country."
Ponich qualified for his first U.S. Amateur in his first shot at qualifying. His playing schedule had always conflicted with the Utah U.S. Amateur qualifier in the past, but this year he was able to prioritize this and got through at Alpine Country Club.
The 19 year old first started hitting plastic golf balls at 18 months in his parent's house with a cut down iron as tall as one's foot to shin.
Now he's playing in amateur golf's biggest event.
Denny Job also got through qualifying at Alpine. The Murray resident who caddies at Promontory Club was happy to invite his dad Ryan, an accomplished Utah golf player, to carry the bag during this special week; the 29 year old's first U.S. Amateur.
"It's pretty cool to have him on the bag," Job said of his father who also looped for him at the U.S. Mid-Am last year.
"I wouldn't want anybody else on the bag. It's good having him here," Job said. "He taught me this great game since I was really young (seven) and it's just awesome to be able to give back to him."
Ryan feels the same way.
"It's pretty awesome for me, the love for a father for a son, I needed to be here," Ryan said.
Job of course is good friends with Zac Blair. The two have known each other since age 7, playing junior golf together and playing golf a bunch during high school and after as well.
How many rounds have they played together?
"Thousands," Blair said. "Five or six years of playing almost every day when it's not snowing."
Blair made his major championship debut at Pinehurst No. 2 when he made the cut and finished 40th in 2014.
What's been his advice to Denny?
"He told me to hit shots to the middle of the greens, and to putt to the edges," Job said.
University of Utah junior Tristan Mandur made it this year as well to Pinehurst.
"I am very excited to play in the U.S. Am, as it is my first one, and for it to be at Pinehurst makes it even better," Mandur said.
This is also his first visit to Pinehurst.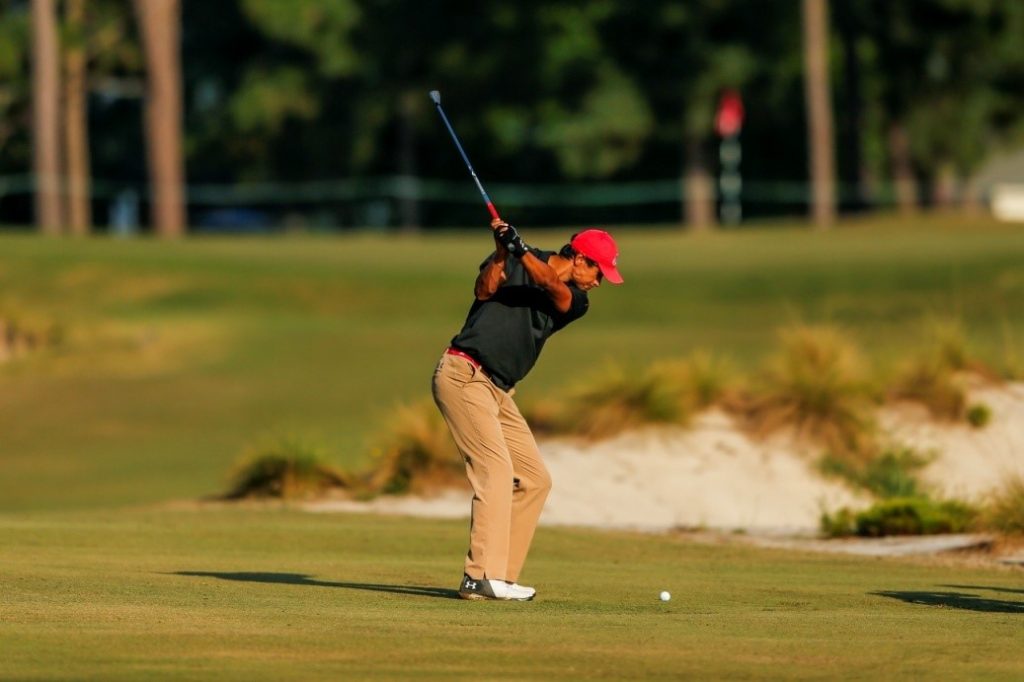 University of Utah junior Tristan Mandur plays his second round of the U.S. Amateur stroke play qualifying tomorrow on the No.4 course at Pinehurst Resort and Country Club. Photo Copyright: USGA/Michael Reaves.
And the final member of this year's Utah contingent is Mandur's teammate, senior Jordan Costello.
The Pinedale, Wyoming native says he's "fired up for this week."
He played the U.S. Kids World Championships five years in a row at Pinehurst from ages 10 to 14, but none of those times did he play No. 2. This week is his first look at it. This week also marks the third U.S. Amateur for the business major.
At a 77.06 stroke average through the Day 1 of stroke play, Pinehurst No. 2 is playing more than seven strokes over its par of 70. Following tomorrow second round of stroke play the field will be cut to the low 64 players. Match play begins on Wednesday.
U.S. Amateur Stroke Play Round 1 results:
Pinehurst No.4 T132 Cole Ponich (+4) 74
Pinehurst No. 4 T132 Denny Job (+4) 74
Pinehurst No.4 T152 Peter Kuest (+5) 75
Pinehurst No. 2 T204 Preston Summerhays (+7) 77
Pinehurst No.2 T224 Tristan Mandur (+8) 78
Pinehurst No.2 T281 Jordan Costello (+12) 82