News
Check out what has been happening in Utah Golf.
Why I Loved the Utah Women's State Amateur
​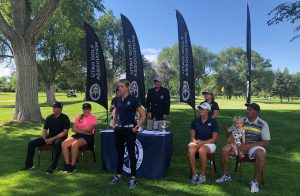 By Abii Johnson, UGA Intern
This week, I had the opportunity to help produce the 113th Utah Women's State Amateur Championship at Logan Country Club and it was such an amazing experience. I truly loved being there and being a part of this amazing event. I have been involved in many golf events over the years in different capacities, but this particular tournament is one that I won't ever forget.
​
When I talk to people about this event who are not from Utah, they don't understand how big of a deal it is. This is not just another tournament, but a high caliber event that showcases the best of the best. 
As a sports fanatic, I love watching the strategy, the precision, the tension, and the emotions that are on display in the game of golf.
I loved being a part of an event that showcases and supports women in this sport. Every player this week was so talented and watching them play is always something I enjoy. By the end of the week, there was a crowd of people watching matches that included more than just family and friends; there were country club members, media, golf course staff, and others following these matches because they recognized just how immensely talented these young women are. 
Crowds at amateur golf championships are hard to come by, but when there is one it transform the experience. The atmosphere completely changes and the seriousness of everything seems to be heightened. There was a constant excitement in the air this week, and I loved being able to experience that with everyone else. 
What I love even more is seeing the young kids watching women play golf and being inspired by what they see.
​I have been on the other side of golf events and have felt what intense competition can bring. The pressure of competition can bring sadness, anger, and frustration. It can also bring a sense of accomplishment, excitement, and joy.
I know that a tournament experience can be terrible or it can produce fun memories that last forever. Working to providing an experience for the players that was positive and fun was a challenge that I loved. I never realized how difficult it could be to produce a smooth championship until I moved from being a player to being an administrator. 
​
I want to say thank you to everyone who was part of this event this week, whether you were a competitor, a volunteer, a staff member, or just a spectator.
I loved being able to watch these ladies achieve some of their biggest goals and to witness truly great talent. I genuinely loved the 113th Utah Women's State Amateur Championship and could not have asked for a better experience.