News
Check out what has been happening in Utah Golf.
Behind the Scenes with the Soldier Hollow Staff at the State Amateur
By Christian Ledek
MIDWAY, Utah – Soldier Hollow is hosting its 6th Utah State Amateur Championship and it is safe to say the course has darn near seen it all.  In 2006, Tony Finau won his State Am title at Soldier Hollow by defeating fellow future PGA Tour player Daniel Summerhays.  This year featured Grace Summerhays, who not only was the 4th woman to ever qualify for the Utah State Amateur, but was the youngest ever to do so at 14 years old.  She then became the 2nd woman ever to qualify for match play on her 15th birthday.  When the State Am is at Soldier Hollow, you expect amazing things to happen and it rarely doesn't deliver on those expectations.
It's certainly an understatement to say that a lot goes into the preparations for hosting the Utah State Amateur.  With 288 golfers battling it out for 64 match play spots in two days, everything needs to run smoothly.  Since preparations start a year in advance, there isn't anything that the head pro of Soldier Hollow for 15 years, Chris Newson, doesn't plan for.
"We make sure we're staffed appropriately and that everyone is fully trained on what the week is going to look like," said Newson.  "I don't have anyone that is on staff the last time we hosted, so proper communication is paramount.  That also means coordinating with the UGA, making sure we have up to date practice round lists for players as well as being on the same page with our superintendent."
Newson's enthusiasm in hosting the event is visible when asked about what are some of the ups and downs with hosting the State Am.
"This isn't a "have-to" event, we get to host the event and we are honored with the opportunity," said Newson.  "Our regular players volunteer to help us out, it's great.  History is always made at the State Am and you never know what is going to happen.  We're always a part of that history and we love it."
Nate James is the superintendent at Solider Hollow and has been with the golf course for 13 years.  He is an Illinois native whose experience totals numerous golf courses, including the prestigious Medina Country Club.
"This was supposed to only be a 3-year stint for me in Utah," said James.  "…it turned into 15 years (his first two being at Wasatch Mountain) and it's incredible.  I've always wanted to live in the mountains.  I got here and fell in love with it."
James highlighted the distinctness and challenges of getting course conditions pristine for the State Am.
"We're unique because we're the driest part of Heber Valley," James said. "The storms bounce over Timp and miss us so we're very dry.  It's difficult to maintain proper moisture between public play.  We don't want to saturate it but we need to keep it at a correct level.  Our guys do a great job and it's about taking care of them, really.  We get them prepared for how important the work is and what to expect leading up to the tournament, but after the tournament, it's about recognizing them and pointing out how they've helped us all be successful."
From a marketing stand point, hosting the Utah State Amateur can see a spike in players before and after the event.  Bruce Strom is the marketing manager for Soldier Hollow and he understands what it means to host the tournament.
"We get a lot of media coverage being on the news everyday, which is good," said Strom.  "It's big for our exposure.  A lot of players and golfers know where the State Am is going to be held.  So not only do we get participants of the tournament out on the course for their practice rounds, but we see a lot of people wanting to play the course before it begins since they know the course will have championship conditions."
Whether players make match play or not, Strom takes pride knowing that the players will enjoy their time at Soldier Hollow, no matter if it's the Gold or Silver course.
"Throughout both courses, if you turn around and look up, you'll see Timpanogos and the surrounding mountains," said Strom.  "The clubhouse also stands out as well.  Plenty of views to be had."
Feeding 288 players can be a hectic job in and of itself, but then there are spectators, friends and family of those players as well that makes the number even higher.  Rob Edwards is the owner of the grill at Soldier Hollow and has worked at the grill since it opened in 2004.  Rob praised his staff for being willing and able to carry the load.
"You have to be very well prepared and have good people that you can count on…and I wake up every day at 3:30 a.m." said Edwards while laughing.
The number of eggs, ham, bacon the grill goes through during the State Am is staggering.
"We'll go through 16 flats of eggs (roughly 3,000 total), 40 pounds of ham, 80 pounds of bacon and 21 big buckets of potatoes…it's definitely a lot," said Edwards."
If you're wondering what fuels someone to go through what it takes to do all of that and work that hard, the answer to Edwards is simple.
"I like to get a review and it says five stars," said Edwards.  "If I don't get a review that is five stars, I almost take it personal.  That's what drives me.  I don't want anyone to have a bad experience.  Players, families, all customers.  I want them to go, "dang that was good, I want to go back."  Knowing I can make someone happy.  That's what makes me get up in the morning."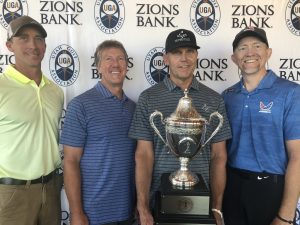 Soldier Hollow Golf Course Staff (Left to Right) Nate James, Bruce Strom, Rob Edwards and Utah Section PGA Professional Chris Newson
If you happen to see any of these gentleman or any of the staff doing great work, as they always are, be sure to give them a thanks as it's the least we could all do.  We sincerely appreciate all the hard work Soldier Hollow and its staff has put in to making this another successful and fantastic Utah State Amateur.