News
Check out what has been happening in Utah Golf.
Day One of the 121st State Amateur Yields Few Surprises
By Randy Dodson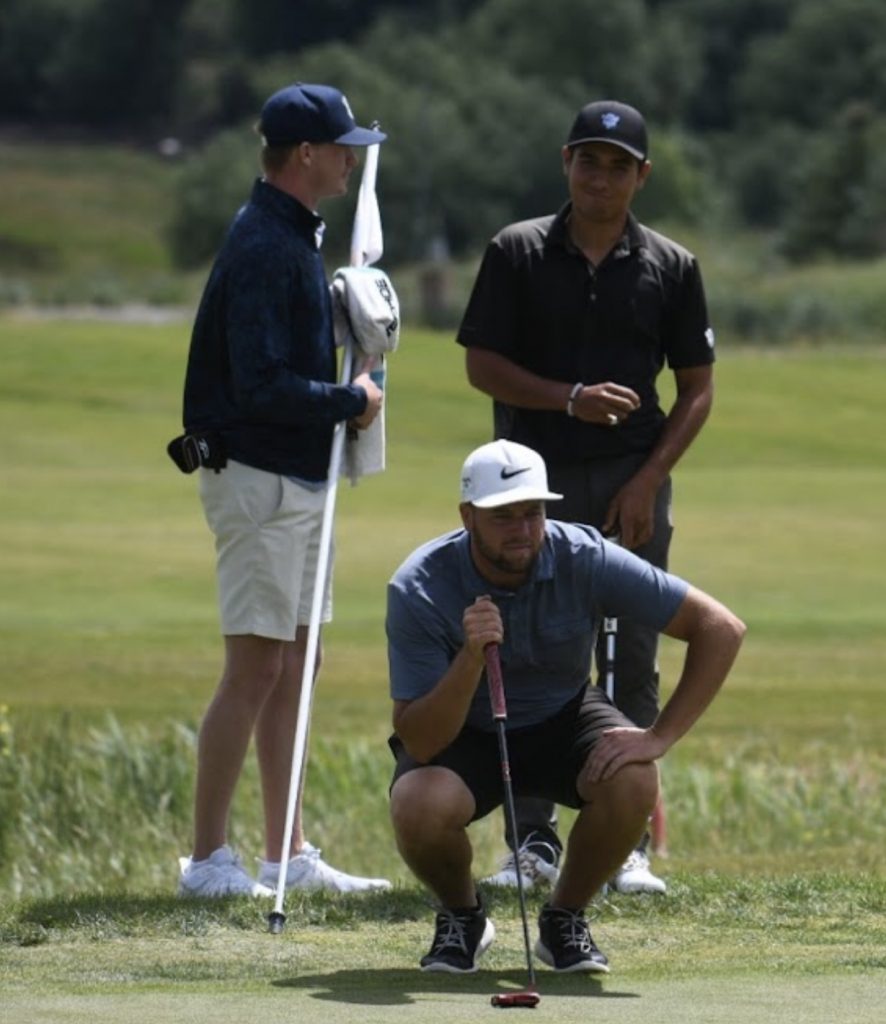 Photo Credit: Jared Lloyd/Daily Herald, Nathan Ouimette lines up a putt on his way to an opening round lead of (-7) 65 at Monday's Utah State Amateur Stroke Play Qualifying tournament at Soldier Hollow Golf Course. BYU's Spencer Dunaway (R) and caddy Austin Christensen look on.
Utah Golf Association Director of Rules and Competitions Easton Folster will sleep well tonight knowing that the opening round of the 121st Utah State Amateur at Soldier Hollow Golf Course yielded few surprises Monday.
A handful of impressive scores are at the top of the day-one stroke play qualifying leaderboard, the expected afternoon winds weren't too crazy, defending champion Preston Summerhays played well, his sister Grace didn't shoot herself out of match play possibilities and the Gold Course held its own.
"Overall I'd say it has been a pretty successful day," said Folster.
Nathan Ouimette of Highland, Utah turned in the low score of the day with a (-7) 65 on the Silver Course to sit alone at the top of the leaderboard. Ouimette had a game plan in mind of not only keeping his tee shots in play but also in the right position. Playing in the second group of the morning, Ouimette enjoyed some pretty calm conditions but also "hit the ball where I wanted to" and "read the greens pretty well."
Ouimette, the lone surprise of the day, is not well-known in Utah golf circles yet; having played baseball at Lone Peak High School and spending his freshman year (2018-19) of college playing golf for Southern Virginia University, where he earned All-State First Team honors from the Virginia Sports Information Directors.
Reigning champion Summerhays played "really aggressively" going for each par 5 in two and "trying to make as many birdies as possible." Also playing the Silver Course but in the last pairing of the morning wave, Summerhays carded six birdies on the day and one bogey when he found the water on the par 5 10th hole. Summerhays turned in a (-5) 67 for the day and is tied for second place with Park City's Colton Tanner.
Grace Summerhays, only the fourth woman to qualify for the State Amateur and the youngest at just 14-years old, finished with a 2-over 74 on the Silver Course and while she hasn't shot herself out of match play, she will need a lower round tomorrow to comfortably get in the round of 64 matches.
Brigham Gibbs, a former Utah Senior Amateur champion turned in the best score of the day from the Gold Course with (-4) 68 and is tied with University of Utah golfer Payton Hastings for fourth place.
Golfers will alternate courses and morning/afternoon waves for tomorrow's final round of stroke play qualifying where the low 64 players will be seeded into Wednesday's match play. Currently there are 21 players tied for the 50th spot at 2-over par 74. Thursday's play at Soldier Hollow will feature both the round of 32 and round of 16 matches.
For complete leaderboard and round two tee times please click here:
https://www.golfgenius.com/pages/1880123
Randy Dodson is the publisher of Fairways magazine, the official publication of the Utah Golf Association and president of Fairways Media.