News
Check out what has been happening in Utah Golf.
Meet the Mulhalls
By Randy Dodson
Living in multiple locations surely has its disadvantages but being a junior state champion in multiple states sits just fine with Ali and Molli Mulhall. The two golfers, ages 13 and 10, have played throughout their young careers in Wyoming, Utah and Nevada, racking up wins in each state and with each new age division and even, in Ali's case, against the adults.
While Ali and Molli each have won the Utah State Junior Amateur for their age group multiple times, they have never done so in the same season, until this year.
Ali and Molli claimed the champion's medals in early June at the Utah Junior Golf Association's Utah State Junior Amateur sponsored by the Utah Golf Association and hosted by The Links at Overlake, Schnieter's Riverside, The Barn and Park City golf courses and Park Meadows Country Club.
The Junior State Amateur week began with over 200 UJGA members of all age divisions teeing it up in stroke play qualifying trying to reach the match play brackets. Ali finished with a 2-under 70 and medalist honors and moved on to the round of 16 in the Girls 13-14 age division while Molli, playing in the 10 & Under division, shot a six-over 43 to reach the championship match.
In the 18-hole championship match Ali defeated good friend Arden Lochheim 1-up at Park Meadows Country Club in a match that was fiercely competitive and just as friendly.
In explaining her match Ali said, "I played with my best friend today; it was an amazing match that went all the way to the last hole. We went back and forth and my opponent Arden was an amazing sport and a pleasure to play with. I'm a really competitive person and I love the competitiveness of match play."
Molli cruised to a 7 and 6 win in the 10 and under championship at Park Meadows. After her match she said, "I played against a really nice girl (Claire Olafsson) and I played really good."
Get to know these two fine junior golfers who are sure to keep making a name for themselves in Utah golf for many years to come.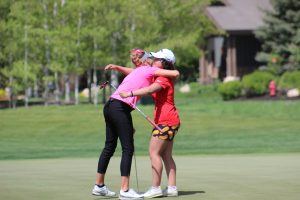 Ali Mulhall
Age: 13
Three-time Utah State Junior Amateur Champion 2014, 2016, 2019
174 tournament victories in seven different states
FCG National Champion 2014, 2017
Two-Time Monterey Challenge winner
US Kids Desert Shootout Champion 2017, 2018
US Kids World Championship: 1 top 5 and 2 top 10 finishes
Two Holes-in-one, age 6 and age 8
2018 National Drive Chip and Putt finalist at Augusta National (her favorite course)
2018 Wyoming State Women's Amateur champion (will defend that title later this summer)
Favorite club: Putter
Average driver distance: 245-yards
Swing coach: Chris Mulhall (Father)
Loves Utah golf because she can hit it farther in Utah
Plays or practice every day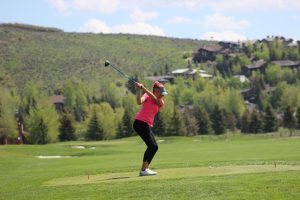 Molli Mulhall
Age 10
Started playing golf when she was four-years old
Favorite club: 7-iron
Strongest part of her game: Putting
Golf Goal: Play on the LPGA Tour
Favorite LPGA Player: Lexi Thompson
Favorite Golf Course: Round Valley Utah
Driver distance 170-yards
65 junior tournament titles
Two-time Utah State Junior Amateur Champion 2018 2019
2017 Future Champions World Championship top 5 finish
Age 9 played in Wyoming Women's State Amateur from 5,800 yards, youngest ever to play
2016 US Kids Tour Player of the Year-Utah
2017 US Kids Tour Player of the Year-Nevada
Three-time Drive Chip and Putt Regional Qualifier