News
Check out what has been happening in Utah Golf.
Berlin Long's Course Record
By Jesse Dodson
Some incredibly impressive golf was played and required of Utah's junior players at the Utah Section PGA's Utah Junior PGA Championship at Soldier Hollow June 17-18 in order to qualify for the national Junior PGA Championship.
An exemption spot was available for the top girl in the 44th Girls Junior PGA Championship held July 9-12 at Keney Park Golf Course in Hartford, Connecticut.
After round one on the Silver Course at Soldier Hollow in Midway, Grace Summerhays lead the Girls 16-18 qualifying division with a (-5) 67 and held a three-stroke lead over 2018 runner up Alina Vannarath.
The second round, played again on the Silver Course, belonged solely to Berlin Long, who fired a personal-best and Soldier Hollow women's competitive record (-10) 62 to etch Summerhays by one stroke to claim the Utah Junior PGA Championship and the exemption into the national championship.
"I'm super excited," Long said about qualifying. "I know it's a really good tournament; it's awesome that I'll be able to represent Utah."
Long finished the two-day event with a (-8) 74-62 – 136. She made up a lot of ground on day two, being seven-strokes behind Summerhays. It required a bogey-free round, six birdies, two eagles and two chip-ins, including one for eagle on the par-5 18th to seal the deal.
"My putter was really good," Long said. "I made a lot of really good putts and also had a few chip-ins; I had two of them, so that was good."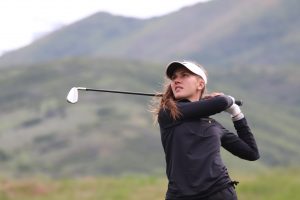 Photo caption Berlin action shot:
Lone Peak high school freshman Berlin Long played spectacular golf in the final round with a (-10) 62 to set the women's competitive course record for the Silver Course at Soldier Hollow Golf Course.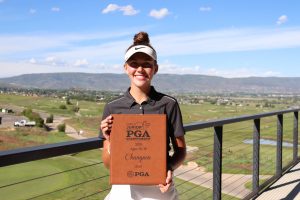 Photo Caption 2 Berlin with Trophy:
Berlin Long will represent Utah at the national PGA Junior Championship in mid-July.