News
Check out what has been happening in Utah Golf.
Senior State Amateur Qualifier at Davis Park
KAYSVILLE, Utah – Qualifying for the Senior State Amateur is in full swing and Thursday's qualifier at Davis Park saw quite a number of players qualify.  Scores didn't go too low for the par 71 course as the wind was a factor early for the players that were teeing off first in the morning.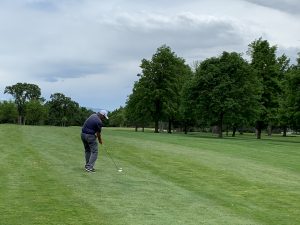 In the Championship Division, Jeff Powers (Schneiter's Bluff GC) and Steve Poulson (Bountiful Ridge GC) took top honors as the only players to shoot below par in their division at 1-under (70).
The Super Senior Division also saw the top two players post the same score.  Dan Parkinson (Alpine CC) along with Terry Zieglowsky (Glenwild GC & Spa) shot 2-over-par (73) for their rounds respectively.
The top score of the day for all divisions came from Don Peterson (Valley View GC) of the Net Division with his 2-under round of 69.
Other qualifiers in the Championship Division are: Eldon Richter (Lakeside GC), Michael Kammeyer (Glen Eagle GC), John Jones (Hidden Valley CC), Jamie Childs (East Bay GC), Mark Newey (Ogden G&CC), Kirk Siddens (Wasatch Mountain State Park), John Porter (Glen Moor GC), Nate Herzog (The Barn GC), Darren Kuhn (Eagle Mountain GC), Scott Lieber (Oakridge CC) and Fred Vath (River Oaks GC).
Super Senior Division qualifiers: Doug Marriott (Riverside CC) and Val Calhoon (Davis Park GC).
Net Division qualifiers: Rick Wright (Valley View GC), Russ Christiansen (Murray Parkway GC), David Williams (Davis Park GC), James Robinson (Valley View GC), Scott Burt (Bountiful Ridge GC) and David Hunt (Riverbend GC).
Full results listed here: https://www.golfgenius.com/pages/1832254