News
Check out what has been happening in Utah Golf.
BYU men's golf: Rasmussen's first-place finish leads BYU to NCAA nationals
By Caleb Turner
PULLMAN, Wash. — Rhett Rasmussen took first place and BYU men's golf placed second as a team at the Pullman Regional to advance to its second consecutive NCAA Nationals.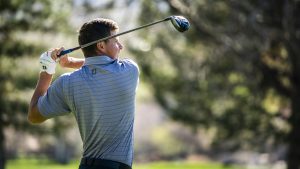 "It was a great day for the Cougars," BYU head coach Bruce Brockbank said. "The team came to play when we needed a great final round. I am so excited for these guys to have another shot at the NCAA Finals."
Rasmussen shot a 63 (-7) for the second day in a row to take sole possession of first place, the first Cougar to do so at an NCAA regional qualifier. He had a 195 (-15) total score to finish two strokes above second-place Zach Smith of UC Santa Barbara.
Two other Cougars finished in the top 25 on the final day: Carson Lundell with a 70 (E) and Peter Kuest with a 67 (-3), his best round of the week. Kelton Hirsch also finished with his best round, firing a 66 (-4) to finish tied for 29th. Brock Stanger shot a 71 (+1) to finish in 47th place.
Texas A&M took first at the regional, while Oklahoma, Georgia Tech and South Carolina finished behind the Cougars to also qualify for nationals. South Carolina beat Colorado State by one stroke in a tiebreaker at hole nine. UCSB's Smith advanced as the highest individual outside of those teams.
NCAA Nationals will take place in Fayetteville, Ark., at Blessings Golf Club from May 24-29. Live stats and the leaderboard can be found at Golfstat.com.