News
Check out what has been happening in Utah Golf.
Chugg, Jones, Sampson & Bernhisel Take Winterchamps Titles
By Kurt Kragthorpe
CLICK HERE for full results.
Men's Division
When he parred the first two holes, Zach Jones knew he was on his way in the final round of the UGA Winterchamps at Green Spring Golf Course. Two pars? That's an achievement for anyone who's assigned to the demanding par-3 No. 5, followed by the famous par-4 No. 6, in a shotgun start at Green Spring.
Jones, a Lone Peak High School senior, went on to make nine birdies in the final round and finished with 52 points for the day and 92 for the tournament, with the first round having been played at SunRiver. He moved ahead of Noah Schone, who started the round ahead by five points and posted an 89 total in the Modified Stableford format.
"My driver put me in good position all weekend and my wedges helped me string a few birdies together, along with the birdies on the par-5s," Jones said.
After those two opening pars at Green Spring, Jones birdied Nos. 7, 8 and 9, then Nos. 12 and 13. He made his second double bogey of the tournament at No. 15, finding the water, but responded with birdies at Nos. 16, 17 and 18 and added another one on his last hole, No. 4. Jones didn't make any bogeys in 36 holes.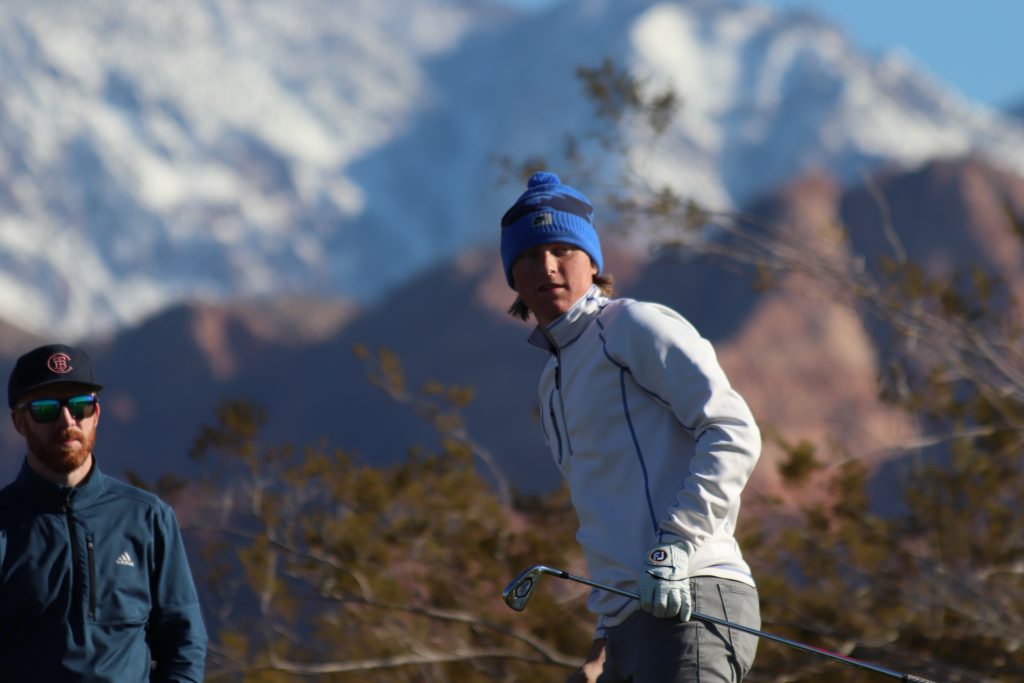 Women's Division
Like a lot of UGA Winterchamps contestants, Kelsey Chugg was just happy to be playing golf in mid-March.
"I hadn't played any golf this year," she said, "so it was nice to get out and see some grass and get some sun."
Winning? That was nice too. Chugg played exceptionally well at Green Spring and then maintained her lead over two outstanding challengers at Bloomington Country Club. She finished with 85 points to 83 for Utah Valley University star Carly Dehlin Hirsch and 80 for Bingham High School senior Tess Blair, the Women's State Amateur defending champion.
"I hit the ball really well and putted great the first round, and was able to hold off Carly and Tess, who played great in the second round," Chugg said.
A former UGA membership director, Chugg recently took a job as the associate director of Salt Lake City's Golf Division.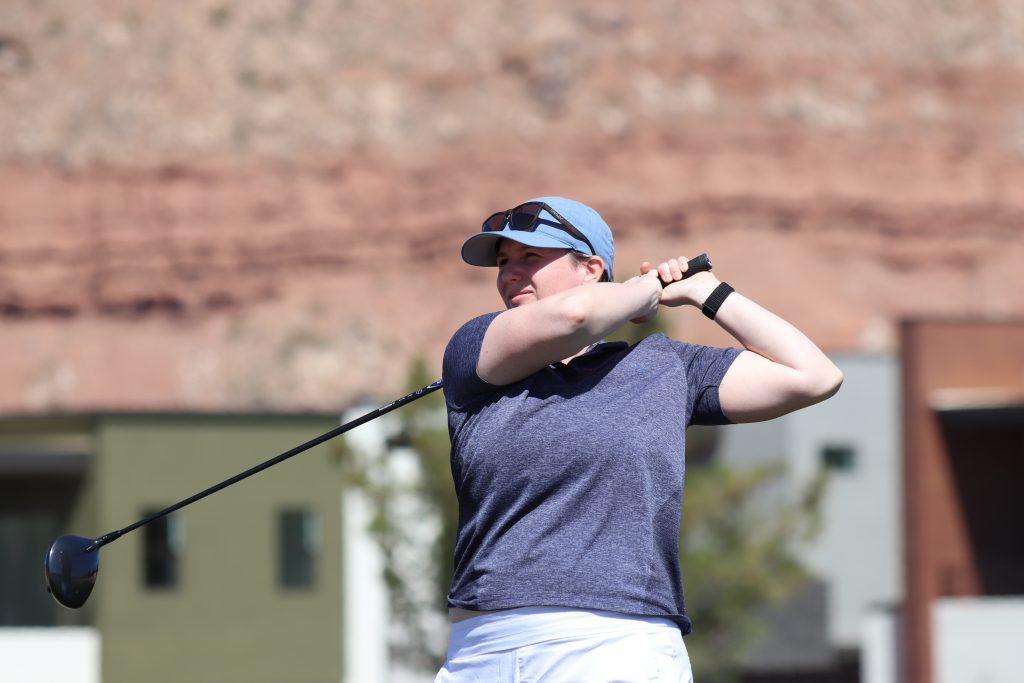 Women's 2 Division
Ordinarily, the Women's Division 2 of the UGA Winterchamps might not merit a full-page Fairways 18 recap. But having a 12-year-old girl win the competition is extraordinary, and fits with the developing story of the Long sisters in Utah golf.
Aadyn Long posted 25 points at Green Spring and 27 points at Bloomington Country Club to top Kyla Hoster by one point in the Modified Stableford format.
A former Drive, Chip & Putt finalist at Augusta National Golf Club, Long showed her driving ability by hitting 26 of 28 fairways in two rounds, the key to her victory. "My short game wasn't as good as I hoped, but it's only March," she said. "I struggled a little bit with my putting, which is usually one of my strengths, at Green Spring. But I putted really well on those awesome greens at Bloomington."
Her older sister, Berlin, tied for fifth place in the Women's top division. Berlin Long also is a former Drive, Chip & Putt finalist and is now a high school star.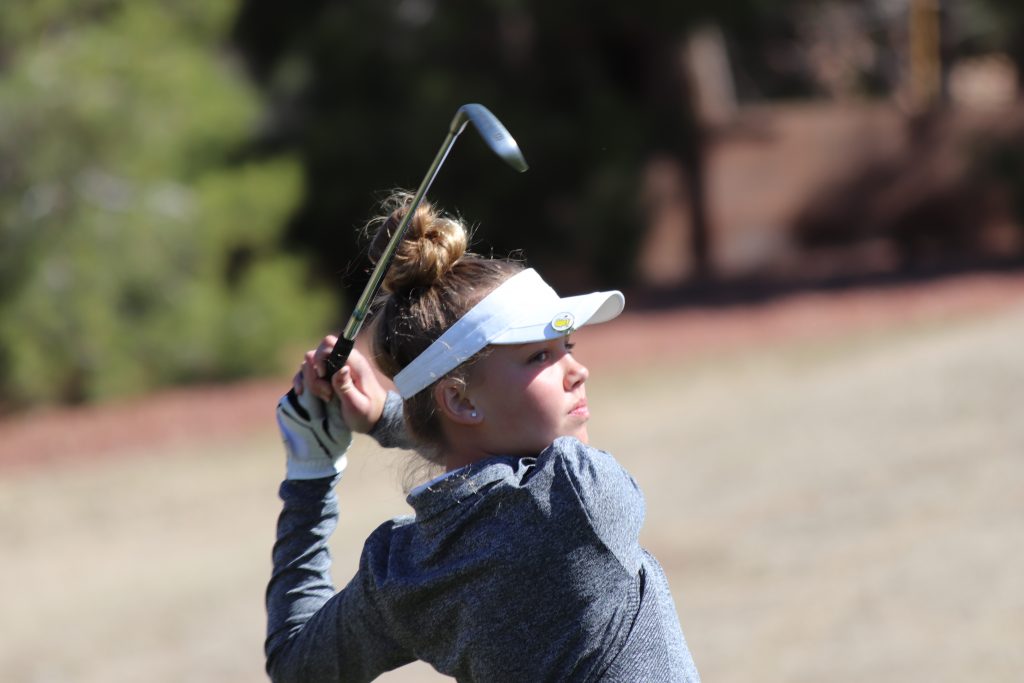 Senior Division
The Modified Stableford format reduces the penalty for a disastrous hole, but bogeys are bogeys in any scoring system. Brett Sampson was determined to make as few of those as possible in the UGA Winterchamps.
That approach, as well as his strategy of putting from off the green instead of chipping whenever possible, enabled Sampson to win the Senior division. He posted 76 points at Green Spring and Bloomington Country Club to top Mike Jorgensen's 73 points.
Sampson is a dominant senior golfer in Utah with his steady game, regardless of how the scores are kept. "I felt like making a lot of pars, letting the birdies come when they did, and keeping myself from making any big numbers, would be a good formula to win," he said. "I certainly didn't hit it the best of everyone, but I felt like I had a good plan, and I stuck to it. It turned out to be good enough against the great players that we have here in Utah."
Sampson made 25 pars in 36 holes, mixed with five birdies and six bogeys.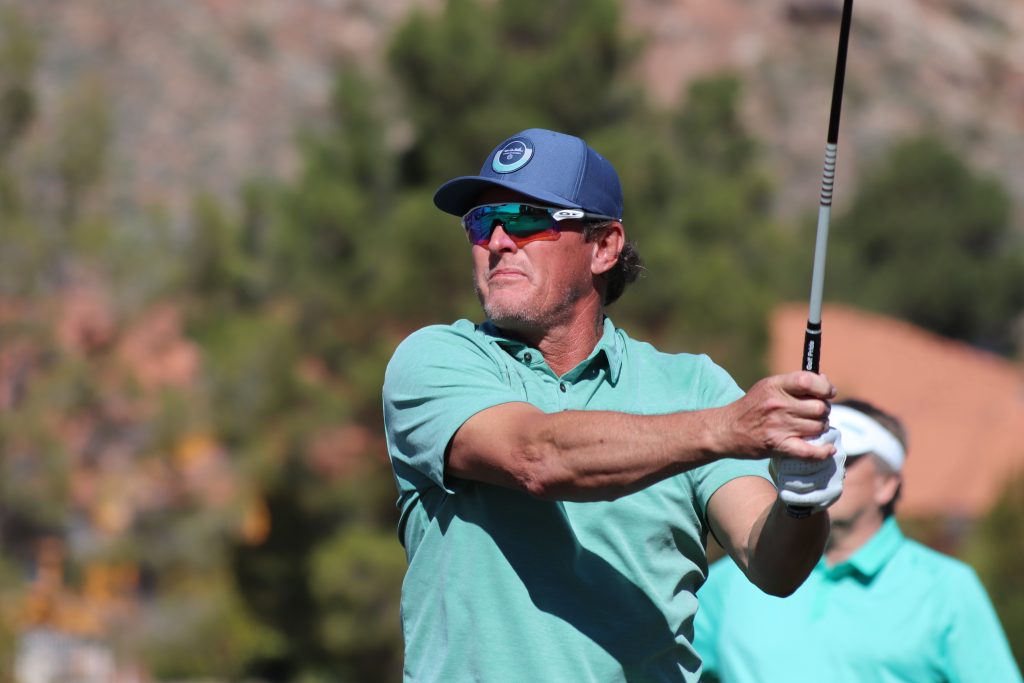 Super Senior Division
Kurt Bernhisel's golf game stays at about the same level year-round. That's a blessing, when it comes to the UGA Winterchamps.
Having recently returned from a medical mission trip to the Dominican Republic, the UGA vice president "didn't have very many expectations," he said, when he teed off in the 2019 event at Bloomington Country Club. Yet as usual, his game emerged from the winter in good condition.
Embracing the Modified Stableford scoring system, Bernhisel didn't stress about making big numbers on any holes and he took the Super Senior division for the second year in a row. He posted 35 points at Bloomington and then overtook Charlie Davis with 36 points at SunRiver for a total of 71, one better than the southern Utah resident.
Bernhisel joked about "purposely trying to make things difficult" for himself at the end, but he made a winning putt after Davis missed his attempt on their last hole.
The short game was the key to his victory, Bernhisel said, as well as an overall game that "tends to be pretty steady."