News
Check out what has been happening in Utah Golf.
UGA Volunteer of the Year: James Mitchell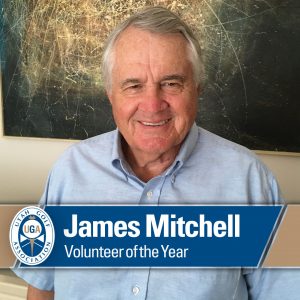 By Kurt Kragthorpe
James Mitchell readily acknowledges that the occasional opportunity to play an exclusive golf facility in Utah is part of the attraction of rating courses.
A lot of work comes with that reward, though. And his dedication in attending nearly all of the UGA's annual course-rating site visits made him the organization's 2018 Volunteer of the Year.
Reese Nielsen, who directs the UGA course rating operation, values Mitchell as a longtime member of the group, helping with some of the less experienced workers, "Jim is one of the bedrock raters," Nielsen said.
Mitchell has a knack of interacting with golfers, as they're playing the course and the raters are trying to do their jobs.
That personable nature comes from his former career as a telephone company sales executive, and the North Salt Lake resident has joined in the rating process for nearly 20 years. Rating courses "is work," Mitchell said. "Fun is not a word I would use to describe it, but it's rewarding." He emphasized "how much I enjoy working with such great people, the other volunteers. We have a cop, a minister, military generals, a teacher, business people and on and on, all donating their time and talents."
That captures the fiber of the UGA. Mitchell is part of a vital operation. "I feel like I'm contributing in a very small way to the quality of golf in Utah," he said.
It's bigger than that, certainly. And in a golf community filled with volunteers, Mitchell deserves his turn to be recognized.