News
Check out what has been happening in Utah Golf.
UGA Gold Club Award Winner: Reese Nielsen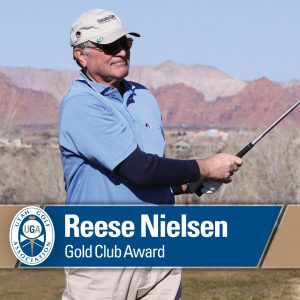 By Kurt Kragthorpe
Reese Nielsen remembers playing Brigham City's old nine-hole course, with par of 37. If that layout existed today, he would know many more details about it.
Nielsen directs the Utah Golf Association's course rating team, charged with thoroughly studying a course to determine its difficulty and applying the numbers to the United States Golf Association's handicapping system.
The process involves a lot of science and a little art, and Nielsen loves it. He has come a long way since the time fellow Thiokol employee Doug Wight asked him to help rate courses. "I had no clue what it was," he said.
He's an expert now, and his commitment to the rating effort has made him the 2018 recipient of the UGA's Gold Club Award. The annual award recognizes "an individual who through significant achievement or unselfish service has contributed to the history and tradition of the game of golf in Utah, and whose personal integrity, sportsmanship, common courtesy, loyalty, and friendship earn him the love and respect of his fellow golfers."
Nielsen is thrilled to join the previous 30 winners of the award. The news of his selection "kind of left me speechless," he said, viewing the award as validation of how important course rating is to the UGA and its members.
"It makes you think you have done something productive and positive for golf in Utah," said Nielsen, who lives in Perry, just south of Brigham City. "It allows you to give something back."
The process is vital, and Nielsen views his work as evidence that the UGA is designed to support rank-and-file golfers, not only tournament players. "It basically affects everybody in the state that has a handicap index," he said.
If not for the rating system, handicapping would be based only in regard to par, with no consideration for the tees played, the length of the course and other difficulty factors. Think about everything that comes into play, just on one hole: elevation change, psychological obstacles, landing zones for drives, length of approach shots, rough, bunkers and slope of the green.
With an engineering background, Nielsen enjoys the analytics involved in course rating. He maintains a rotation of visiting 13 of the 119 ratable courses in Utah each year, making sure the numbers are up to date. New courses are re-evaluated after five years.
And he's thorough. "He's a detailed guy, enough to drive you nuts," said course rater James Mitchell, the UGA Volunteer of the Year. "If you want to do it well, Reese is the guy."