News
Check out what has been happening in Utah Golf.
BYU men's golf: Kuest takes first at St. Mary's Invitational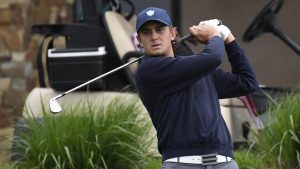 (Photo courtesy of BYU's Athletic Department)
By Caleb Turner, Sports Information Director for Golf at Brigham Young University
PEBBLE BEACH, Calif. – Peter Kuest finished in first place for the third consecutive day at the Saint Mary's Invitational to win his third tournament of the fall season, while BYU men's golf took second as a team.
The University of Southern California managed to move into first place as a team, thanks to three top-10 finishers, but were unable to overcome Kuest's record-breaking individual performance. He shot a 70 (-1) in the final round to secure his first-place finish, after setting the record for the best round at Poppy Hills Golf Course with a 61 (-10) in the opening round. His total score of 300 (-13) tied the 54-hole record at the course.
Rhett Rasmussen fired an impressive 69 (-1) in the final round to finish in the top 10 as well, tied for ninth.Chad Hardy was one-over par with a 73 to put himself in 20th and Austin Banz tied for 30th with a 78 (+7) in the third round. Individual competitor Kelton Hirsch came in 43rd with a 73 (+1) and freshman Carson Lundell finished tied for 60th with a final round score of 78 (+7)
BYU had 839 total points, eight strokes behind USC, and nine strokes ahead of third place Pepperdine. Other WCC foes St. Mary's, San Francisco and Santa Clara finished in eighth, ninth and 14th place, respectively. In-state rival Utah finished the tournament in 12th place.
This concludes the team's fall season, having won one tournament and taking second at three. Play resumes in the spring prior to the WCC championship and NCAA regionals.
| | | | | | |
| --- | --- | --- | --- | --- | --- |
| 2 | Brigham Young | 271 | 278 | 290 | 839 |
| 1 | Peter Kuest (1) | 61 | 69 | 70 | 200 |
| T9 | Rhett Rasmussen (2) | 70 | 71 | 69 | 210 |
| T20 | Chad Hardy (4) | 71 | 70 | 73 | 214 |
| T30 | Austin Banz (5) | 69 | 69 | 78 | 216 |
| T60 | Carson Lundell (3) | 76 | 70 | 78 | 224 |
| | | | | | |
| --- | --- | --- | --- | --- | --- |
| T43 | Kelton Hirsch (Brigham Young) | 73 | 74 | 73 | 220 |