News
Check out what has been happening in Utah Golf.
UVU Women's Golf: Utah Valley posts seventh-place finish in final fall tournament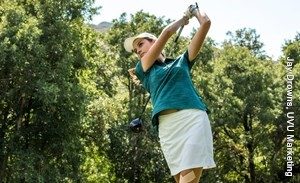 By James Warnick, Assistant Sports Information Director for Utah Valley University
HOT SPRINGS VILLAGE, Ark. – Behind a final-round 2-under-par 70 from freshman Nathalie Irlbacher, the Utah Valley University women's golf team moved up a spot to finish the Little Rock Women's Golf Classic with a seventh-place finish out of 16 teams with a 49-over-par 913.
As a team, UVU posted its best round of the tournament during Tuesday's final round with a 7-over-par 297. The score also marked the second-best of the day. The Wolverines previously recorded rounds of 305 and 311 to finish the final event of their fall season with the 49-over 913.
The freshman Irlbacher led UVU during Tuesday's final round by carding a season-low 2-under-par 70 to move up 38 spots on the individual leaderboard and finish the event in a tie for 23rd place. After carding scores of 79 and 80 earlier, Irlbacher responded by carding six birdies during Tuesday's final round to record the 2-under 70.
Junior Kaylee Shimizu led the way for the Wolverines at the tournament by recording the first top-10 finish of her collegiate career by tying for 10th with a 6-over-par 222. After posting a personal best 71 and a 74 during the event's first two rounds, Shimizu then fired a 5-over-par 77 on Tuesday to finish the 54-hole event at 6-over-par. The 54-hole total of 6-over-par is also Shimizu's best three-round tally of her career. The Wolverine junior also carded a UVU-best 10 birdies at the three-day event, which was the fourth most of any player at the tournament.
Senior Carly Dehlin Hirsch was next for UVU by tying for 40th out of 95 total participants with a 17-over-par 233. After carding scores of 77 and 81, Dehlin Hirsch saved her best round for last by notching a 3-over 75 during Tuesday's final round. Sophomore Keila Baladad (77-79-79) and Senior Ana Raga (77-83-75) rounded out Utah Valley's competitors by both tying for 46th with a pair of 19-over-par 235s.
Central Arkansas won the Little Rock Classic with a 33-over-par 897 (303-303-291), while Missouri State finished second (900), UTEP third (902), Western Kentucky fourth (904), Lamar fifth (907) and South Alabama sixth (909). By placing seventh, UVU finished ahead of fellow WAC foe UMKC (920), Houston Baptist (925), the host Little Rock Trojans (925), ULM (927), Northern Iowa (931), UT Arlington (933), Arkansas State (943), Stephen F. Austin (956) and McNeese State (975).
Western Kentucky's Megan Clarke earned individual medalist honors with a 4-under-par 212 (72-67-73).
The 54-hole, three-day event was contested at Diamonte Country Club in Hot Springs Village, Arkansas.
The Wolverines will now be off for the winter months and will return to action on Feb. 11-12 at UC Riverside's Battle of the Rocks at Oak Quarry Golf Club in Riverside, California.